Standard bricks aren't suited for a fire pit because it can get really hot inside the pit, and most bricks crack pretty fast and can lead to a serious accident if substituted for fire bricks. Your best bet is to use fire or refractory bricks, which have a higher density and go through a kiln process that enables them to resist extreme temperatures.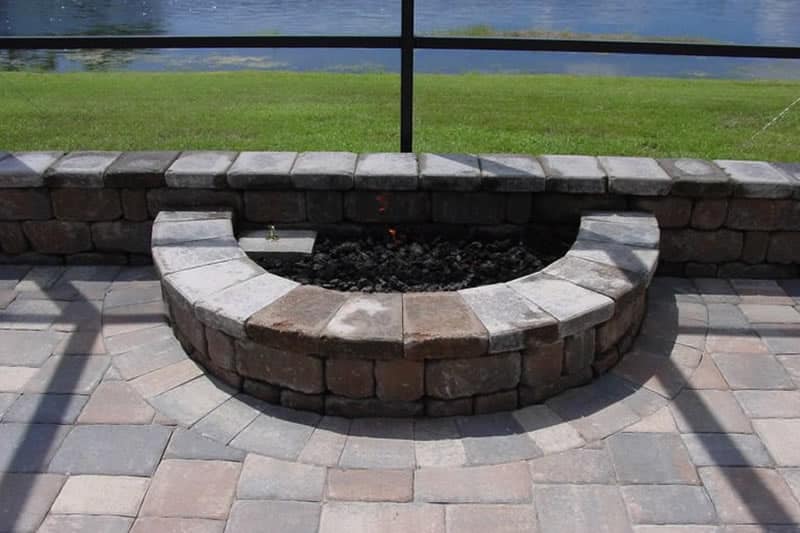 Let's explore this in more detail.
How to Make a Fire Pit
This is one of those DIY projects that are fairly simple to accomplish, and you can use some of the best materials out there to make a beautiful fire pit.
However, sometimes this project can get pretty complicated, and you may need to hire a professional to get the job done.
Still, if you're adamant that you'll be able to accomplish this task by yourself, you'll need a few materials to get the job started.
These materials include a shovel, fire bricks, cement, and gravel which are a staple if you're building your own fire pit.
You will have to get a small number of bricks if your fire pit is small, and you can easily make the calculation by considering an approximation of 25 bricks for a 3 feet fire pit.
Refractory cement is your go-to material in this case and doesn't crack under high temperatures, so it is better than regular cement.
The thermodynamic properties of refractory cement ensure there is room for expansion due to high temperatures, which means you will have to keep the diameter of the fire pit larger to incorporate this extra space.
You also need to level the ground as you go along.
Why Choose Fire Bricks
Although some people might want to use other materials like cinder blocks and certain kinds of stones, they will likely degrade with time and fall apart.
This can reduce your fire pit's life and work against you since there is no guarantee that even the best types of stone will be able to hold up against extreme temperatures.
Fire bricks can withstand temperatures over 1400 degrees Fahrenheit, which means that your campfire will be going strong throughout the night without any safety concerns.
Even if the odds of an accident occurring are pretty low, it is in your best interests not to take that risk and go down the safer route.
Lining your fire pit with fire bricks is optimal because it means there are no anxieties involved, and you can relax and enjoy your time around the campfire with friends and family.
However, if you don't mind a bit of risk and want to experiment with some materials that may not explode or crumble, you can go ahead and do so.
Be sure never to use compressed concrete or limestone and sandstone because they should not be in your fire pit for any reason.
Final Verdict
Fire bricks are the best choice for a fire pit because they are very safe and result in an excellent campfire experience if that's what you're looking for.
It's in your best interests to reach out to a good vendor or have your fire pit created professionally if you want to get the job done right the first time around.