Dealing With Weeds in Pavers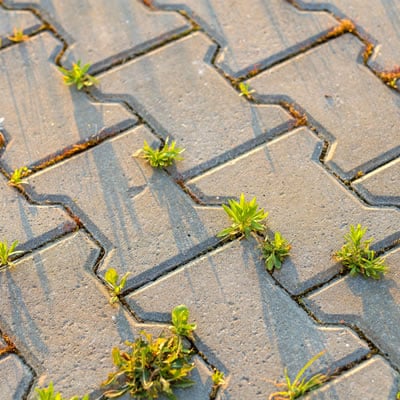 There's nothing like brick pavers to add character to your home. They're durable and timeless, and there are so many varieties of them that you can match your house's exterior in any style you choose. But that's not all brick pavers do for you! They also do an excellent job at keeping weeds at bay. If you don't take care of them, they might end up doing the opposite by encouraging weeds to grow between them instead of preventing them from sprouting up in other areas of your lawn or garden.
Clean Your Brick Pavers.
When cleaning your brick pavers, the first step is to ensure they're dry. If they are still damp, it's best to wait until they have dried before continuing.
To clean your bricks with a pressure washer:
Set the nozzle to "medium" and stand about 15 feet away from your pavers.
Spray them with water for about 20 seconds on each side (more if needed).
Take out a soft brush and scrub any stubborn dirt that didn't get removed with the power washer.
A broom can be used as an alternative method for cleaning brick pavers to sweep off the dirt between cracks in the brick surface. Do this gently so as not to damage or dislodge any loose pieces of mortar or stone on top of which weeds might grow later on down into their crevices between cracks. Simply sweeping these away could lead them into growing roots deeper within where there isn't enough light for survival without being buried under other plants' leaves first!
Find A Way to Cover Up Weeds.
If you have weeds between your pavers, you can use a weed barrier to cover them up. There are many types of weed barriers on the market, offering various benefits and drawbacks. Some are more durable than others, and some are more expensive than others. It's also important to consider whether or not you want an impenetrable barrier (like plastic) or one that allows water to pass through (like fabric).
Some types of weed barriers include:
Weed Block Fabric
Weed Barrier Fabric
Weed Mat
Weed Sheet
In most cases, it's best to choose a material that won't allow any light through since weeds need sunlight to grow.
Spray Them with Vinegar.
While vinegar is safe to use around plants, it's important to know that vinegar will not kill the grass. If you're trying to get rid of weeds between bricks and pavers and have grass growing there, your best bet is herbicide smoke treatment.
Vinegar spray is an option worth considering if you're trying to kill weeds in your garden or between bricks pavers. This works because of the way that vinegars work as organic herbicides: they disrupt the plant's cell walls so it can't breathe anymore and eventually dies.
It's also important to note that vinegars aren't toxic unless ingested; however, if ingested too much can cause stomach pain and vomiting, so be sure not to drink large amounts!
Use A Chemical Herbicide.
If you have weeds in between your pavers and they are resistant to pulling or cutting, you can use a chemical herbicide. This will kill all the plants surrounding your walkway.
You'll need to be sure that it is safe for use on brick pavers and won't damage them. Read the label carefully before using any herbicide on anything other than grasses, as some chemicals might leave stains or discolor the bricks permanently.
Pull The Weeds by Hand.
Pulling weeds by hand is the most effective way to remove them. It's also better for the environment by not using chemicals, and it's free!
To pull weeds, grab a trowel, dig up the weed's roots with it, and then pull out any remaining portions of the root system. If you need to get down deep into cracks between pavers or bricks, use a pair of pliers (or even a hammer) so that you don't damage your hands while digging into hard spots like concrete or stone pavers.
Conclusion
Rock Solid Pavers are skilled specialists who provide reasonable rates for exceptional brick paving jobs that can transform your home's aesthetic impact and create the wow factor you're searching for.
Our goal is to help you maintain your brick pavers so that you can enjoy them for years to come. Keeping weeds away from your beautiful walkway can be difficult, but with careful planning and attention to detail, we hope these tips will help eliminate those pesky weeds between your bricks.