What bricks are best for a firepit?
You will want to make use of the most suitable bricks so that your firepit can hold up well to the extreme conditions that it will be subjected to. 
For a safer and more durable firepit, you will need to use fire-rated materials. Using high grade fire-rated material will ensure that you have bricks that can better withstand searing hot flames.
When installing these fire-rated bricks, you will also have to pay attention to design considerations that could impact their lifespan. For instance, you will need to maintain the right air gaps so that air can flow freely into and out of the firepit.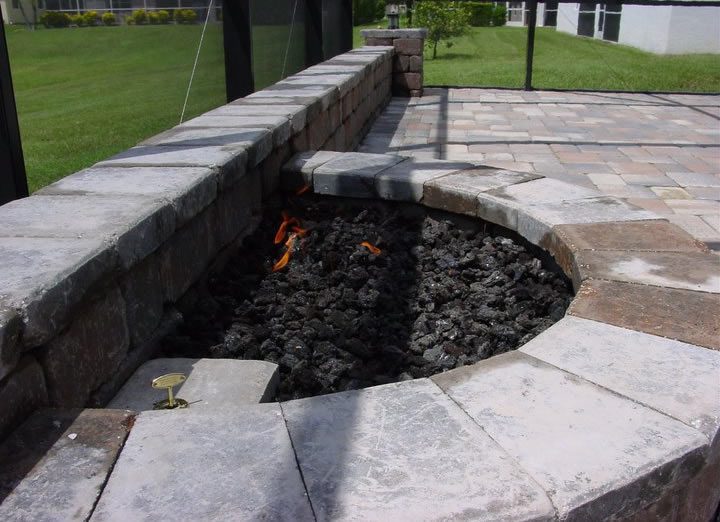 Fire-Rated Materials
You will have to use refractory cement to tenaciously hold firebricks in place. Both the cement and bricks should be refractory – that is, rated for high temperatures.
Within the firepit itself, you will need heavy-duty firebricks. But outside the firepit, you could install ordinary bricks if that is what you prefer. You will have to take care to maintain an appropriate gap between firebricks and ordinary bricks so that your firepit can last long.
Kiln-fired bricks are a possible choice for your firepit. These bricks are appropriate for temperatures encountered in above-ground firepits.
Although firebricks are the standard choice for firepits, there are other alternatives as well in case you are looking for a change. Choices like soapstone, sandstone and refractory cement are also possibilities. Your contractor can inform you about the suitability of these materials based on the design of your firepit. Thus, you should take the advice of these experts for a more problem-free experience.
Ankar Sandstone
This volcanic sandstone material is largely sourced from Indonesia. Since it is volcanic, you can expect it to have impressive heat-resistance. The color is also quite different since it is a greyish green. The fine grained texture and rugged surface imparts a look of resilience and durability to these high performing refractory bricks.
Red Clay
Red clay is the typical old school refractory material that is often deployed in the form of firebricks. Besides fire resistance, these firebricks also have good heat retention capabilities due to which they work well for traditional ovens and hearths.
Refractory Concrete
If you are interested in strong heat resistance and heat retention, then refractory concrete is another possible alternative for you to consider.
One of the most well known kinds is haydite. The material is made by baking shale rock in kilns at high temperatures. This aggregate material is mixed with cement to give heat resistant concrete that holds up well to hot searing flames. The material has a fairly long history of reliable use at six decades. Refractory concrete is known for its strong heat tolerance and insulating properties.
What bricks are best for your firepit? Besides material properties, a lot depends on the design and configuration of your firepit.
Are you interested in the best bricks for your firepit? The experts can inform you about the best choice and viable alternatives for your firepit.