Successfully laying paving stones requires order and method. This article shares information on the type of installation and preparation you should consider putting under pavers. Furthermore, for your patio, yard or paved path to remain beautiful and functional for years, you must know how to prepare your installation site.
It all starts with choosing the suitable pavers that are an aesthetic choice (stone or reconstituted stone, concrete, paving for grass, etc.) and a material choice since they are exposed to all climatic hazards and other trampling shocks. Thus, before choosing a paving stone, you must determine the place of installation and, therefore, the use.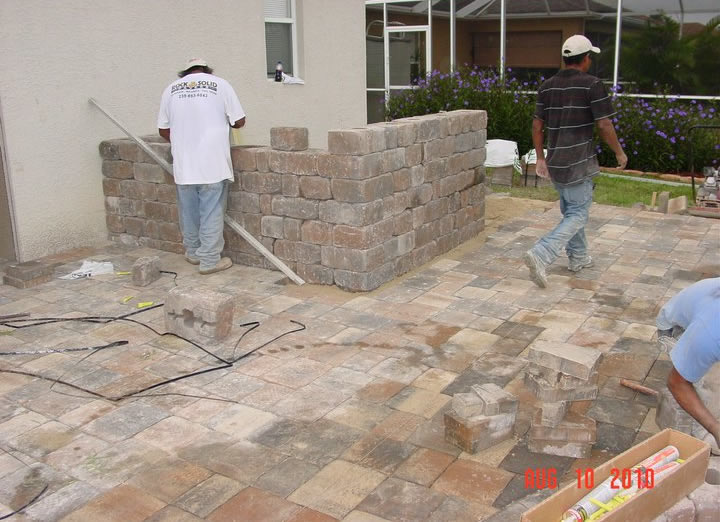 Here's What To Put Under Pavers
Two techniques depend on the type of pavers you have chosen and their use:
Lay the bricks on a Bedding of Sand
The pavers are installed on bedding sand, also known as concrete sand. It is the best coarse sand for pavers that doesn't trap excess moisture under the pavers—a sand joint or a poured joint blocks the pavers between them. Laying on a sand bed is recommended for pedestrian areas.
It is also possible for a road suitable for motor vehicles if the paving stones have a thickness greater than 6 cm. In this case, you can reinforce the bedding base by using stabilized sand (by adding a hydraulic binder, cement or lime) or compacted sand (sands of different particle sizes are firmly packed).
Installation on Concrete Slab (Screed)
The pavers are sealed on the screed or slab with a thin mortar and then grouted. Terrace, pedestrian or vehicle path are ideally suited to this laying technique, whatever the pavers' thickness.
Preparing the Ground before Laying Pavers on Bedding Sand
The pavers must find a solid and stable foundation.
Disburse the foundations
Depending on the terrain and the use, the foundations will be more or less deep.
20 cm whatever the terrain for a pedestrian zone.
30 cm for light vehicles in silty terrain.
40 cm for light vehicles in clay soil.
The Slope of Flow
Do not forget to provide a slope of 1 to 3% towards the outside for water flow. Optionally, provide drainage if the soil is not or poorly filtering.
Stabilize the Foundations
When disbursed, fill the excavation with rubble, stone, gravel, tiles or broken bricks, etc. and finish with stabilized or compacted sand. However, for a simple footpath, sand and gravel are sufficient. You can now place a 3 to 5 cm bed of sand on your foundations to start laying your pavers.
For more information on what to put under pavers and custom brick and concrete paver designs, contact Rock Solid Pavers, offering the highest quality designs and selection services to its clients!