In the Mediterranean region, outdoor kitchens are an essential part of the gorgeous and sunny landscape. Outdoor kitchens are unsurprisingly very popular in the US. As people continue to discover their exciting possibilities, open-air cooking spaces will become even more ubiquitous.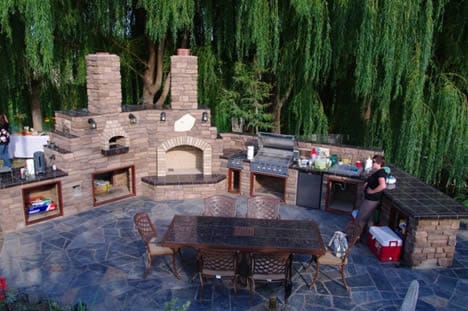 Not sure if an outdoor kitchen is for you? Without one, you stand to miss out on these fantastic opportunities.
Serious Fun for Everyone on All Occasions
If you had to pick out one incredible benefit for outdoor kitchens then this would be it. Fewer things are better than sharing the kitchen experience with friends and family – cooking is bound to become more enjoyable and even quicker with assistance.
Now your guests can see you live in action as you churn out one gastronomic delight after another. In fact, they can hop in and join the fun. Enjoying a great cookout is as delicious if not better than the mouthwatering results of these fun-filled sessions. Neither you will be bored in the kitchen, nor will your guests. With outdoor kitchens, there is plenty of room for everyone to converge and enjoy the good times.
Adds Value to Your Property
Here is another advantage that is right up there with the previous superlative benefit:
Outdoor kitchens are a superb investment because they extend your usable space.
The space on your property is limited. Therefore, it makes perfect sense to extend usable space on your property as much as you can.
Outdoor kitchens offer great value for money since you are making better use of the unused area on your property.
The grilling craze is an established facet of the American heritage, and its popularity will only soar in the future.
With an open cooking space, you can cash in on the grilling craze and the surging popularity of Mediterranean-style outdoor kitchens.
Tremendous Savings
With summers, the mercury on your thermometer rises. And with high utility bills, so do your stress levels. But this does not have to be the case! An outdoor kitchen is just what you need to save the day.
The space within an indoor kitchen needs air conditioning, especially during the summers. An indoor kitchen will, therefore, drive up the costs of utility bills.
With grilling, roasting, baking, and frying, the heat inside the kitchen will skyrocket. This means more work for your AC and more frightful amounts on your utility bills.
With an outdoor kitchen, you just need a powerful fan at most to stay cool. There may also be a fair breeze outside to delight you while cooking. In fact, you may not even need a fan except during the hottest times. Besides, a grilling experience can never be authentic unless it's done outside. You can enjoy this priceless feature with outdoor kitchens.
If you are serious about fun and cooking then you owe yourself one. You can have it all with outdoor kitchens. Make every cooking session a picnic full of fun.
Contact us today for fantastic kitchen ideas and great culinary experiences.
Rock Solid Pavers
rocksolidpavers.com